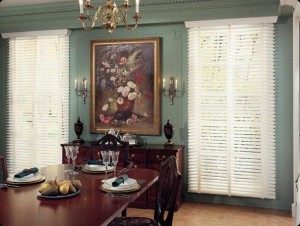 San Diego is known for its near-constant sunny weather and many of us are lucky to have pretty views through the windows of our homes. But no matter how great the view, every window needs a covering for the times when you want to cover the view from inside or outside your house.
Massey's Window & Floor Coverings offers a great variety of window coverings and treatments for every home; curtains, drapes, blinds, shutters and more.
All of our custom San Diego window treatments are professionally installed for your convenience.
Your privacy from the outside world is important, but window treatments can also block direct sunlight to prevent it from fading and damaging your valuable furnishings and artwork. Window treatments can frame a window to enhance your decor and pull a room together. Conversely, they can also be utilized to play down an awkwardly situated window. The right window coverings offer light control and energy efficient insulation from heat and cold as well as noise. We'll also show you how to keep the exterior of your home looking great, too, without distracting patterns or colors showing to passersby.
Drapes
Select from a variety of fabric options as well as curtain details including heading finishes such as swags, grommets, pole pockets, pinch pleats or tie-tops, to name just a few. We can help you select the best color, length and drape style to compliment your windows and decorate your home or office.