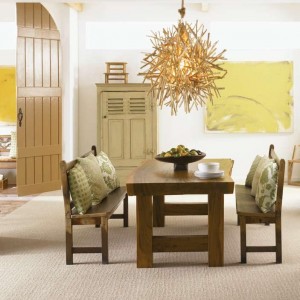 We carry a large variety of flooring San Diego laminate, hardwood, tile and carpet options to fit any style and budget. Choose from carpet, hardwood, tile and laminate flooring options in a huge selection of colors, types and prices for your home of office location.
What could be more natural than the beauty of a hardwood floor? One of the oldest flooring materials, wood is highly durable and with relatively simple maintenance will last for many years. The variety of woods and color finishes available today will complement your lifestyle and taste — from traditional to contemporary.
Hardwood Flooring San Diego
Hardwood flooring imparts warmth to a room. Wood is surprisingly easy to maintain and  keep clean with light sweeping and occasional mopping and it won't harbor dirt allergens like carpeting can. Hardwood floors are resistant to wear and tear, but easy to repair when necessary, and a few scratches or small bumps and dents won't detract from their beauty and character. Let us explain the benefits of the various kinds of wood floors so that you can choose the right flooring for the comfort of your family.
When it comes to hardwood flooring San Diego customers have come to expect that Massey's Window & Floor Coverings has the selection and expertise to help them improve their homes.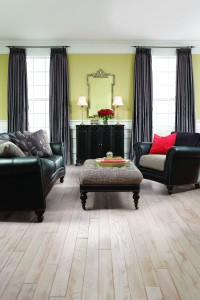 Laminate Flooring San Diego
If you love the look of hardwood or stone floors, laminate flooring is an affordable choice when your budget won't budge. Today's laminate flooring San Diego options mimic real wood and stone so convincingly that homeowners are increasingly choosing it as a durable and low maintenance substitute for the real thing. The variety of colors, styles and textures now available have made laminate flooring San Diego homeowners' increasingly popular choice.  Give us a call and we will help you choose the most appropriate flooring for your unique location.
Tile and Stone
Tile and stone floors are an excellent option for a look of elegance and beauty for both home and office.  One of the most intriguing items about both tile and stone floors is the wide array of textures that are available.  These can range from a smooth elegant contemporary texture to a rough rustic one. We have natural stone, porcelain and ceramic styles available. To help decide what tile type is best suited for your home or office, give us a call and we can walk you through the durability differences between each.
When you contact us, we'll ask you about your needs and lifestyle. Then we'll schedule a no cost in-home visit at your convenience and bring designer-chosen samples — based on what you've told us — for you to consider in your familiar surroundings. We will work up a selection designed around your flooring preferences that can include San Diego carpet, hardwood, laminates, tile or stone. We'd love to show you window treatments, too.
When you're looking for flooring San Diego offers many choices in the market. But we hope you'll call Massey's Window & Floor Coverings — or contact us right from this website — and give us the opportunity to show you that our selection, prices, installation and years of great service are the right choice that have kept customers coming back to us again and again.